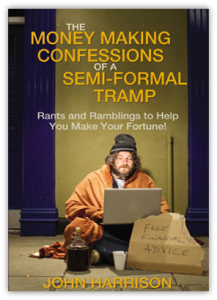 There can be few books about making money which start out at a Hurricane Preparedness and Debris Management Conference, but this is no ordinary book about making money.
In a journey through its 21 chapters you'll  find yourself  whisked around various improbable events and locations. One minute you'll be amidst the glamour of  Simon Cowells birthday party, and the next at a Car Boot sale in a sun scorched field in Rotherham.  Just when you've got used to the luxury of a five star Mediterranean cruise, you'll be brought back down to earth with a trip around the living hell that is Ikea. And along the way you'll encounter such strange bedfellows as a Killer Tomato, Michael MacIntyre and a real life giant with digestive transit issues.
All these elements are brought together for a reason, to give shape and framework to a critical money making idea which could take you from where you are now, to where you'd really like to be.
This is the third in a series of books which began with The Money Making Magic Of A Funfair Goldfish, and then moved on to The Toilet Pan Millionaire. It is distinctive in three ways:
It's the shortest of the three at just over 100 pages
It's the most recent
It's the funniest
You can order the book on approval. It comes fully guaranteed, and if you're unhappy with it for any reason whatsoever, you can simply return it for a full unconditional refund.
Cast Iron 30 Day Money Back Guarantee
You can order in complete confidence. If you're unhappy with the book for any reason whatsoever, or can't see how you can put the insider information it contains to use, then you can simply return it within 30 days and receive a prompt and courteous refund of every penny you've paid. Is that fair?
To order your copy on approval, click here or you can call our 24 hour credit card hotline on 01709 361819.
Special Website Price £9.95    (Usually £19.95)