***Revised And Updated Anniversary Edition For 2015!***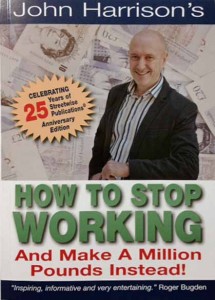 "Maverick Multi-Millionaire Reveals His



Controversial Blueprint For Banking
A Million

In 365 Days Or Less…
And It's Yours For Less Than The
Price Of Fish And Chips For Two!"
Dear Reader,
Imagine how it would feel to make £2,500 or more a day…
I'm not talking about £2,500 in ONE day. No, I mean £2,500 EVERY single day…365 days a year.   Money dripping into your account like clockwork. More of it each day than most people make in a month.
What would that mean to you?
No more struggling to pay the bills, no more scrimping and saving, no more worrying about your retirement or the future….the chance to do all the things you always wanted to do…to live in the house you always dreamed of…to drive the car you always yearned for…and to maybe help out a few other folk along the way.
An impossible dream? Not at all…I've done it… but there is a catch. You'll have to stop working before you can do it!
For more years than I care to remember, I tried the 'traditional' way of  making  money, and it got me precisely nowhere. A decade of  working hard in 'proper jobs' and I was  struggling to meet the mortgage repayments on a shoebox of a house,  driving a beat up VW Beetle that looked for all the world like it had been peppered with a shotgun, and taking my annual holidays in a damp Mablethorpe Caravan. Wealth – or even financial security – seemed a lifetime away.
The Secret
And then I discovered 'the secret' – something pretty amazing. To make money….serious money…you have to stop working first. You see, working gets in the way of making piles of cash.
Ever felt you were too busy earning a living to make any REAL money…that all your energy and effort was used up just keeping your head above water?
Well you'll know what I mean.   It was only when I gave up work and tried 'something else' that the money started to flood in. Truck loads of it!
That 'something else'  was to turn an ordinary bloke from south Yorkshire into a multi-millionaire. The mortgage was quickly paid off, the Beetle replaced by a succession of Porsche, Ferrari and Mercedes, and the holidays became whenever and wherever I chose.
Want to know about that 'something else? Like to know how you could copy me. I'll tell you, but first it's important you understand this.
Anyone Can Do It!
Nobody gave me some cash to get started with this, and I didn't borrow or invest any money to get rich either. That mortgage I told you about is the only money I've ever borrowed in my life. Truth is, my fortune was built on the back of a £30 investment…thirty quid!!
That investment made me a multi millionaire. Don't be misled, I'm not talking about 'paper' wealth you can't spend – like all those Dotcom 'millionaires' a few  years ago. I'm talking about real cash – the stuff you can go out and exchange for nice houses, exotic holidays and fancy cars. Yes, lots of fancy cars!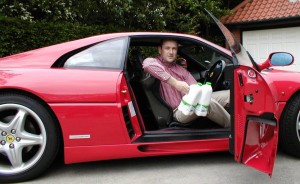 But I had to stop working before I could do
any of this…and if you want to do it,  so will you.
The more money I made, the more I realised something really important….95% of conventional wisdom about making money is wrong. Dangerously wrong. Nothing more than claptrap put about by good writers with lousy bank balances – useless people making a living by teaching you to fail.
Why on earth would you want to learn about making money from someone who doesn't have any? Does that make any sense to you? Me neither. And that's why I decided to write a book, detailing exactly how to do what I've done, starting from scratch…
How To Stop Working
And Make A Million Pounds Instead!
The big difference between this and other books you may have read is that it's written by someone who's actually done it!
Some of the things I'm going to tell you will surprise you…shock you even. Everything is practical, down to earth, and easy to put into profit-making action though. I won't bore you with psycho mumbo jumbo, I won't get you to chant affirmations to yourself, I won't be encouraging you to hypnotise yourself – nothing like that. That stuff has it's place but it isn't here.
T  his is the place where you'll learn exactly how to stop working and make a life-changing amount of money for yourself starting from zero – right here in the UK.
I'm going to show you how to create your own personal money machine starting from rock bottom…one which will keep churning out cash wherever you are, and whatever you're doing. Automatically.
£300,000 a year – or more!
Just to get you started, I'm going to teach you a simple money making system I use which brings me over £300,000  a year clear profit. You could copy this. You already have everything you need to do it. How do I know? I'll tell you that too. I'll show you how to get started within days.
If that's not to your liking, I'm going to detail dozens of other ready-made, proven opportunities you can start straight away including one which a 21 year old young woman  surviving on restaurant left-overs used to make over £50 Million in 8 years.   You could get started with this tonight  (if you had my book to hand) with  no experience and without a penny in the bank.
No More Excuses!
Did  you think you needed capital, education, experience or youth on your side? Wrong! I'll show you why not, and why these things might actually work against you if you want to make it really big. Remember… I said anyone can stop working and make a million pounds instead. But not everyone can. First you need to learn how.. And that's what I can teach you in my blueprint.
Still not convinced?
I don't blame you. I can fully understand if you're sceptical at this point…I would be too…but I want to get the book into your hands so that you can prove it to yourself.
So I'm going to send you a copy of How To Stop Working And Make A Million Pounds Instead, at a ridiculously low price – just £9.95…little enough for anyone to afford, but just enough to put off the people who could never benefit from what it contains anyway.
I don't want you to risk a penny!
Is it worth risking £9.95 on the off-chance that there might be something here, more than the usual hot air and hype? Of course it is, but I don't want you to risk a penny. I honestly don't need your money that badly!
So here's the deal…
My Personal Unlimited and
Unconditional Money Back Guarantee
Order a copy of the book on approval today. I'll make sure it's sent out to you by return post. Read it, study it, try a few of the ideas if you like.  If you decide now, or at any time in the future, that you're  not happy with it for any reason whatsoever, simply return it and I'll refund your money in full. No quibble, no hassle, no questions asked. Simple as that.
Is that fair?
Now I'm not a mind reader, but I do know what I'd be thinking in your position…if this guy has made so much money…if this is so good…why  does he want to let me have it…and why is he prepared to sell it to me for the price of a couple of pints?
Well actually there are two reasons…
Firstly, I get a 'kick' out of helping people make money. You can read some of their comments at the end of this letter. Plenty of people helped me when I got started (and I'll tell you about some of those in the book) and I like to do the same. It's fun and it feels good.
But there's a second reason, which isn't quite so altruistic! Here's a little clue….
It's possible…and I can't make any promises here….that we may be able to work together in the future. I'll provide you with all the tools you need to go it alone, but some people like to work with me at least part of the time, and when they do the rewards can be massive. I paid one reader £127,624 over the last 2 years, and that's a tiny fraction of what he's made by himself after reading the book. And guess what? When we worked together, I made money too!
Maybe I should have just told you about the first reason and you'd have thought better of me! But I'm being totally honest and up front with you here.
How To Get Your Copy On Approval
You can get your copy of How To Stop Working And Make A Million Pounds Instead by   Clicking through and ordering  your copy on approval NOW or  you can order via one of our credit card hotlines on 01709 361819  (phone) 01709 360611 (fax) If I'm right, you could be on the road to stopping working and making a million pounds by this time next week. If I'm wrong you won't lose a penny.
So where's absolutely nothing to lose.  Click through and order your copy on approval NOW.
Very Best Wishes,

John Harrison
P.S    The book has been updated and  extended for 2015 with over 30 new bonus opportunities to choose from.
What Readers Have Said About The Book
"Many thanks for the ideas you have given me. I've gone from having a boring, underpaid 9-5 job, to running my own business and still having enough time to pursue my career as a musician. I can also give to charities now. That makes me feel absolutely brilliant about myself."
S Tyers
"I must write and congratulate you on your book…it was the best £20 I ever spent, and my income has increased by £100 a week for about 10 minutes work a day."
J Bateman
"Your words in the book were very inspiring. I could not put the book down. It's made an immense difference to my way of thinking. 'How To Stop Working And Make A Million Pounds Instead' is the best book I have ever read. It really is amazing how your words, which are nothing more than ink on paper, can inspire a person to immediately think about changing their life."
S Parry
"A brilliant insiders look at how anyone can get rich starting today – by someone who has actually done it. If you've ever aspired to making a big bundle of money as quickly and easily as possible, then you owe it to yourself to buy a copy right away."
O Goehler
"Your book brought everything into perspective for me, and the cover is now falling off because I am re-reading a lot of the content."
P Godfrey
"A fascinating and inspiring read. The kind of book that makes you act on something NOW, instead of tomorrow, or next week."
G Flintham
"It is down to you that I have found the confidence to set up my own business."
M Crowther
"I'm a partner in a joint venture started from one of your ideas, and I'm very busy making money."
A Potts
"I've just finished your book, and this idea has everything. I was about to give up, but now I have hope again for my own business."
J Marais
"It's because of you I'm now venturing into a business of my own and making good money from it."
S Nixon
"I have steadily implemented a number of  your most excellent ideas. They are working extremely well for me. Thanks to you my future is secure."
S Tarry
"I wish to complement you on a publication which is eloquently written in a language and format that is easy to understand and follow, as well as being simple and straight forward. Congratulations on an excellent work."
J Rogers
"That's got to be one of the greatest entrepreneurial books of all time. And I've read lots!"
Peter Juszko
"It changed my whole perspective to life. I have used 2 of the business ventures you suggested and they are doing fine. My life has been turned around. Thank you very much."
Kofi Samuels
"One of the best motivational books I have ever read."
Lee Wood
"Inspiring, informative and very entertaining."
Roger Bugden
Special Website Price £9.95 (Usually £19.95)