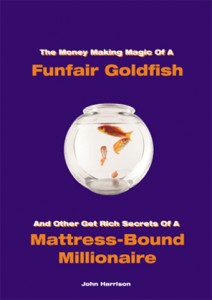 Ever wondered how multi-millionaires get started? A lot of people like to think that they were given money, were born into it or inherited it. It makes them feel better. But the truth is very different. Most multi-millionaires started out with nothing, just like you and me…
And not only that, most of them started out knowing next to nothing about the process of making a great deal of money either.
But once, through luck or careful planning, they stumble across a way to make a 'pile', they guard the methods and systems they used to do it like a lion guards its cubs. And the more they make, the more protective they become. They get scared that if someone discovers their secrets, they'll take the information… and the money will disappear with it!
But then something strange happens.
As they accumulate more and more cash, they start to feel secure. They realise they already have more money than they can reasonably spend in three life¬times… let alone one. And that even if they share their secrets with others, it isn't going to harm their own wealth one little bit…
But it will boost their ego through the roof. And at that point in their lives, that's more important than money. A chance to prove to the world how smart they are.
And that's when the floodgates open. Whoever is first in line when those informational floodgates blast wide open is going to get hit with a wall of money-making know-how… know-how that's accumulated over years (maybe even decades) but condensed and delivered in one shocking rush.
Well that's just about where I've got to!
It all started a year or so ago, when I was looking over some of the letters and emails I received from customers. Although they expressed it in their own words, the same fundamental questions were being asked time and again…
What are the easiest projects for the average person to take on and turn into a fortune?
 What are the secret ingredients of advertise¬ments and marketing that pull in £1 million or more a year?
What simple steps can you take to transform a run-of-the-mill business into a runaway fortune maker?
I decided to commit the answers to these and scores of other how-to-make-multi-millions type questions to paper, and then over the course of the next few months I 'spoon-fed' a group of 'Guinea Pig' customers with the detailed answers.
The results were life-changing for many of that group. Here's what just two of them wrote in to say…
"John's made a huge difference in my life. He provided me with information that produced £21,234 in profits from one project in only a few months. Another off-the cuff remark gave a boost to another money making idea that produced sales of £6,755 last week alone. My only qualm is that he annoys me – because what he says turns out to be true way too often!"
Publisher and Internet Entrepreneur – Cheshire
"I'd read stuff on marketing before and had done enough to do well, but mostly I find that stuff boring and manipulative. But I enjoyed John's material so much I decided to make a push at it. I mean, here was a man with a sense of humour as bad as mine and one who can get his point across and still make you laugh out loud. Basically I took his advice. And the results? John helped me to make an extra £5,500 in two months.It also paid for a weekÕs holiday and has meant I'm working smarter, not harder. This year I'm marketing a lot less and I'm still doing 60% better than before."
General Holistic Practitioner – London
As more and more letters like this flooded in, they became a source of both pride and frustration.  Pride because… well, everyone likes a pat on the back, even multi-millionaires… and frustration because I realised I'd created something which had the potential to transform lives, and only a handful of people were going to get to find out about it.
This situation didn't sit comfortably. I decided that the material deserved a wider audience, and the result was…
'The Money Making Magic Of A Funfair Goldfish –  And Other
Get Rich Confessions Of A Mattress Bound Millionaire.'
It's a compilation of those How-To-Make-A-Million 'spoon-feeding' sessions which created such a rabid and enthusiastic following. I've held absolutely nothing back in the book. It contains pretty much every last secret of how I built a direct response business from zero to one which has turned over in excess of £21 Million in the last 4 years. All without any special skills or start up capital.
Pretty much anybody could take the information
in this book and turn it into a massive
pile of cash. It really is that clear.
Here are just a few of the things you'll learn about in the book:
How to get rich

without skills, capital or knowledge

… 15 years of direct marketing secrets you can learn in an evening.
How to make money by p***ing people off.  I've been doing it for years and you can too.
The one key factor which can turn your worst possible prospect into a customer desperate to hand over his money.
The shocking truth about new technology I learned from Paul Daniels, which nobody else wants to tell you.
How to multiply your sales with the

simplest

change to ANY product you can imagine.
How to make your fortune in W H Smith… the little known source of a thousand fortune-making product ideas you can raid today.
What you can learn from The Sun (but

never

The Guardian) which could make you rich.
The truth about email marketing which you have to know before you even think about doing it.
What I learned in Las Vegas that made me

£57,600

for no extra work at all (and it's got nothing to do with gambling).
What you simply have to know about children… even if you don't have any and can't stand the sight of the little darlings.

How I lied myself to success

… but pre¬fer to call it being creative with the truth… and how you can do it too in a way that makes everyone a winner.
How to increase your prices, and have your customers feel they got a great deal.
The money making secret I learned from a funfair goldfish. This will really make profit opportunities jump out at you wherever you go and whatever you do.
Why you could be letting money slip through your fingers without even knowing, and what you need to do to stop it happening.
T

he ultimate business.

.. one where your customers routinely throw your product away and then come back for more… and how you can apply exactly the same principle to any business.
The worst ads in the world… and what you can learn from them to help create some of the best.
How to

hijack

someone else's good reputation and piggy back it to profit… even if you don't have one yourself yet.
Why I've often made the most money when I've worked for free… and why "a fair day's work for a fair day's pay" is a mantra for mugs.
How to write ads to sell anything which are better than sex!
Now, it's one thing to share this sort of life-changing information with a small group of 'guinea pigs', but quite another to put every last word of it into a book, and then practically give it away.
But here's the thing…
I want as many people as possible to read it. I really think this is going to change lives.
So here's the deal…you can order the book on approval. It comes fully guaranteed, and if you're unhappy with it for any reason whatsoever, you can simply return it for a full unconditional refund.
Cast Iron 30 Day Money Back Guarantee
You can order 'in complete confidence. If you're unhappy with the book for any reason whatsoever, or can't see how you can put the insider information it contains to use, then you can simply return it within 30 days and receive a prompt and courteous refund of every penny you've paid. Is that fair?
To order your copy on approval, click the link below or you can call our 24 hour credit card hotline on 01709 361819.
Special Website Price £9.95    (Usually £29.95)
To Order Click Here Or Call 01709 361819