What do you do with the ashes when a loved one or favourite pet dies? Well some people keep them in an urn, others scatter them in a place of significance, but a Missouri painter offers a different solution. Adam Brown offers clients one-of-a kind artwork made from the remains of their relatives or pets.

He produces the art using cremated remnants sent in by relatives and mixing them with paint pigment to create a "lasting memory" composition. "Having ashes in an urn on a mantle somewhere is a good way to constantly remind yourself that person died, but when you use them in an artwork it's a good way to remember someone lived, "Brown says.

I don't know anything about the process, but this seems like a nice way to use the remains to create a lasting memorial. If you're an artist, perhaps this is an opportunity to investigate further.
Trapping A Customer 
One of the hassles of travelling is packing and transporting everything you need for the trip. For business travellers, this is even more of a problem. They travel more frequently and often find themselves hauling their luggage backwards and forwards to the same destination. The Grand Hyatt hotel in Melbourne, Australia decided to do something about it, and gave themselves a competitive advantage at the same time.

The Grand Hyatt now offers storage facilities for regular travellers complete with full laundry facilities. The hotel effectively becomes a home from home and once you have your stuff there well, where else are you going to stay next time you're in Melbourne?

There are obviously advantages for the guest, but also advantages for the hotel. So is this an idea you could adopt or adapt? Is there some way you could ethically 'trap' your customers? Perhaps there's something you could 'store' for them, meaning they will have to return. This will mean different things to different businesses, but something to think about.
Today's National Day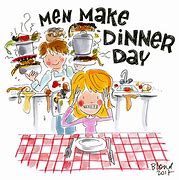 NATIONAL MEN MAKE DINNER DAY!
PUBLISHERS NOTICE