There seems to be a blueprint for female fashion models that is rarely broken – very tall, very skinny, very bland. What makes this rather strange, in my view, is that only a very tiny minority of the people who the fashions are aimed at, conform to the same blueprint. I think the market is crying out for something a bit more realistic and representative, which is where London based Anti -Agency comes in.

The agency actively selects models who defy the industry standard, preferring individualism and personality over the supposed perfect shape.  The founders claim they employ people who are "too cool to be models".  Many of the models represented by the agency are young students and artists who are looking to break into the creative industries.  By using models that better represent consumers the agency has secured work from well-known brands such as Uniqlo, ASOS, Urban Outfitters, Toni & Guy and Liberty of London.
There are two things here: 

1. Could there be a second career for you as a model? Anti -Agency isn't the only one to realise that the market is becoming increasingly interested in seeing the 'real' people in clothes they're being invited to buy.

2. There's a message here for other industries. Following the accepted route is just one road to success. There are usually opportunities to be successful doing something completely different from the crowd.
Stinky Boyz
Stinky Boyz is a personal hygiene product company based in Atlanta, Georgia. Back in the mid 1990's , the founder Marie Gelin noticed the battle her sister was having to get her son to shower and wash. As a mother of daughters, the difference was stark. Gelin decided to do something about it and created a sports based range of soaps and cleansing products. The business was a success and went from strength to strength.

There are two things to take from this I think. Firstly, successful businesses are often based on personal problems or experiences. So give some thought to yours. And secondly, contrary to what the politically correct might tell you, it's worth giving some thought to the big differences between the sexes. Men and woman…boys and girls…are not the same. They have vastly different needs, wants and pre-dispositions, and there are often successful businesses to be had within these differences.
Today's National Day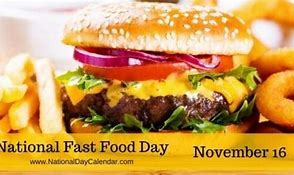 NATIONAL FAST FOOD DAY!
PUBLISHERS NOTICE